Few things are more rewarding than cooking and eating your day's catch. You worked hard all day to nab that perfect walleye, and there are a myriad of ways you can enjoy it.
Regardless of the way  you like to cook, as long as you eat your catch as soon as possible. Walleye can be frozen, but they are at their peak when they are fresh, never frozen.
Walleye have a thick, firm meat that can lend itself well to many different cooking techniques. Due to their light clean taste walleye can also take seasoning without compromising the integrity of the fish.
Below are a couple simple ways to cook your perfect catch.
Broiled Walleye: Simple preparation
Walleye
Parmesan Cheese
Lemon Juice
Salt and Pepper
Melted Butter
Prepare the cookie sheet with non-stick cooking spray. Clean off and pat dry the walleye gillets. Place fillets on cook sheet and season with salt and pepper lightly, it's easier to add more than it is to remove. Sprinkle parmesan cheese and then give each filet a drizzle of lemon juice and butter. Place filets under broiler until filet is baked enough to flake away with a fork. Approx. 5 minutes
Baked Walleye: Crispy without Frying
2 eggs beaten with 1 Tablespoon water
1/3 cup bread crumbs
1/3 cup instant mashed potatoes
1/3 cup parmesan cheese
1 teaspoon salt
Walleye Fillets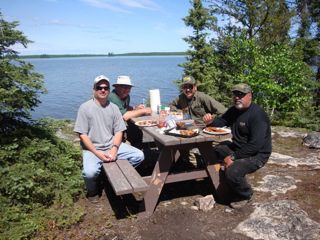 Preheat oven to 450 degrees. Prepare baking sheet with non-stick cooking spray. Combine Bread crumbs, potato flakes, parmesan cheese, and salt. Dip fillets into egg mixture and then press into bread crumbs mixture. Place fillets on baking sheet and bake in oven approx 15 to 20 minutes, until filet flakes away with fork.

[msh_feedburner]