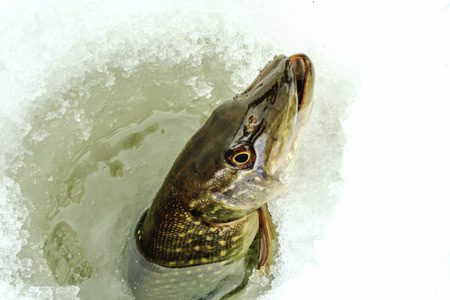 If you fish for Northern Pike, you will most likely hear anglers discussing the best ways to catch them in the middle of winter.
With so many different tips, it can be hard to tell what will and won't work.
Regardless of what you decide on, the following tips are a great place to start when you decide to hit the ice.
Reel In That Northern Pike
Location, Location, Location – When you head out to catch a northern pike, take note of where their food supply is calling. If you are able to find that, the Pike won't be too hard too far behind.
Play The Game – Northern Pike is known to play with anglers bait. If you feel it a tug, don't reel your line all the way in. Instead, reel in slowly as the Pike may return and bite again. Do this and stay patient and you could just end up with a catch.
Get The Right Bait – Don't even bother with smaller bait when trying to catch a Northern Pike because they won't either. Make your bait about 6 to 8 inches long. But keep in mind you might have to reel your bait in yourself as most stores don't carry bait that long.
Burntwood Lake Lodge offers fishing trip packages in Manitoba.
Our fishing guides will take you out on the water and help you bring home your next trophy.
If you would like more information on our packages, please contact us today!