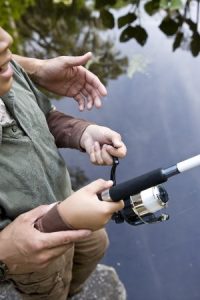 Who doesn't love to go on a fishing trip with the family or just the guys? We know that this activity is so relaxing and so many people can't wait till the season begins each year.
It is important for everyone to know the times that the season begins and when you should reserve your trip to come and fish with us.
The fishing this year will begin on May 21, 2016, according to Manitoba's Angler Guide since we are in the Northwest Division of Manitoba. The general closure is from May 1, 2016, to May 20, 2016.
Here are a few other regulations from Manitoba's Angler Guide for anyone that has not fished with us before:
Barbless hooks must be used.
From April 1 to and including April 30 and from May 21 to and including May 31, the walleye limit is 4.
No live baitfish
All lake trout over 65 cm must be released.
All pike over 75 cm must be released.
All walleye over 55 cm must be released.
We offer fishing package rates for 3, 4, 5, 6 and 7-day trips as well as Direct from Winnipeg travel options as well for 5 night/4 day and 7 night/6-day trips.
To see pricing, as well as what is included and not included, visit our Fishing Page.
Your license fee is not included in the price of your trip. This fee varies depending on age and residency status. Here is a quick breakdown:
65+ Manitoba Residents
Conservational License: Free
Regular License: $25.10
Manitoba Resident – Ages 16 – 64
Conservational License: $19.20
Regular License: $25.10
Canadian Resident – Age 16 and over
Conservational License: $28
Regular License: $47.65
Nonresident – age 16 and over
Conservational License: $37.85
Regular License: $62.35
If you are ready to book your trip, we would recommend contacting us at Burntwood Lake Lodge, 1-877-358-2259, as soon as possible to book for this season since we are only a few short weeks away from opening day.